Chinatown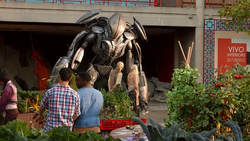 Chinatown is located in Savannah, Georgia. It was a safe zone protected by Alexis Glass-Mason. Chinatown was a safe zone, however is now a wasteland after it was destroyed by Espheni forces.
Before Chinatown was attacked, it featured many gardens in which the survivors gained their food. Chinatown featured atleast 100 survivors, and multiple more after the 2nd Mass arrived. After the Battle of Chinatown, an estimate of 30 survivors were left in Chinatown, few Chinatown survivors, as most gave their lives as they believed Alexis would not let them die. Many of the 2nd Mass fighters were killed during the battle, and many when a gasleak exploded in one of the streets where the fighters were stationed.
The 2nd Mass continue to use Chinatown as their home and later abandon it to march on Washington D.C. where the Espheni have set up a major base of operations.
Production used the inner courtyard of the Chinese Cultural Centre regularly for Season 4. The inner courtyard was part of a Dragon Center Mall. Falling Skies filmed the mall interiors at the nearby International Village. Falling Skies also used parts from inside the Dr. Sun Yat-Sen Classical Chinese Garden to create Chinatown.[1]
Residents
Edit
Former Residents
Edit
Deceased Residents
Edit
Community content is available under
CC-BY-SA
unless otherwise noted.