Name
Korinna Moon Bloodgood
Birthplace
Anaheim, California, U.S.
Birth date
September 20, 1975
Korinna Moon Bloodgood is an American actress and model. She starred as "Lt. Blair Williams" in the film Terminator Salvation alongside Christian Bale and Sam Worthington. Bloodgood previously starred in the films Eight Below and Pathfinder.
Early life
Edit
Bloodgood was born in Anaheim, California. Her father, Shell Bloodgood, is an American of Dutch and Irish descent, and her mother, Sang Cha, is South Korean. Her father was stationed in Korea when he met her mother.
Bloodgood is a former member of the Laker Girls. In 2009, she appeared for the fourth time on Maxim's Hot 100 list, at #20, her highest appearance. She was #99 in 2005, #53 in 2006,and #40 in 2007.
In Day Break (2006–2007), she portrayed Rita Shelten, the girlfriend of a detective who is framed for murder and arrested in the span of a day but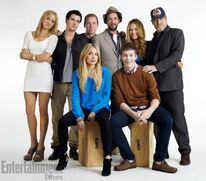 continually finds himself reliving that same day. In 2007, Bloodgood starred as Livia Beale in the American science-fiction television series Journeyman on NBC. She had a role in the movie Street Fighter: The Legend of Chun-Li, which opened in February 2009. She starred as Blair Williams in Terminator Salvation, the fourth film in the Terminator series and reprised her role in the video game and the prequel series of short film Terminator Salvation: The Machinima Series.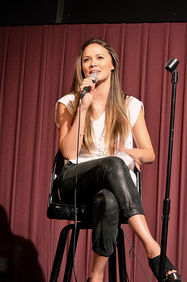 In the Spring of 2009 she joined the third season of the show Burn Notice in a recurring role as Detective Michelle Paxson.
She currently portrays Dr. Anne Glass in TNT's science fiction series Falling Skies executively produced by Steven Spielberg.
She also voice acts the role of Uriel the Archangel in the video game Darksiders. In 2012 she announced she was pregnant with her first child. This tied into the show with Anne announcing she was having
Tom's baby.
External Links
Edit